Monday 21 July, 2009


Huntingdon Library Opens Its Doors With Thermo-Floor

Thermo-Floor has been part of the £4.6 million redevelopment of Huntingdon Library in Cambridgeshire.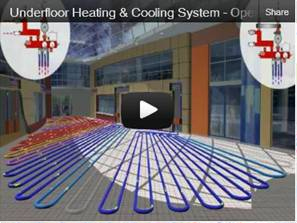 Neil Evans, Managing Director of Thermo-Floor, explains: "We were brought in to design and install an underfloor heating and cooling solution for the redevelopment. The new facility boasts a number of modern design concepts and Thermo-Floor was able to compliment these and help bring the library into the twenty first century".
"Underfloor heating and cooling assists in creating a healthier environment because the air circulation associated with it is minimal, which was an important consideration for this public building. The reduction in energy bills, up to 25% compared to other heating systems, also mean that they will benefit from substantial cost savings".
"Thermo-Floor continues to work with Designers, Engineers, Specifiers and Architects to grow the untapped market of underfloor heating and cooling systems, allowing them to differentiate their projects and turn away from traditional central heating. This allows more projects, like Huntingdon Library, to reap the benefits of the next generation of heating systems."