Monday 5th November, 2012

New Website Launched Offering Complete Information On Underfloor Heating, Underfloor Cooling And Energy Sources

The new website can be bookmarked at www.thermo-floor.co.uk and also offers complete interactive social media channels for Twitter, Facebook and YouTube. You will find comprehensive Underfloor Heating and Underfloor Cooling information on several videos that are presented. We hope you enjoy our new website and welcome any feedback that you have.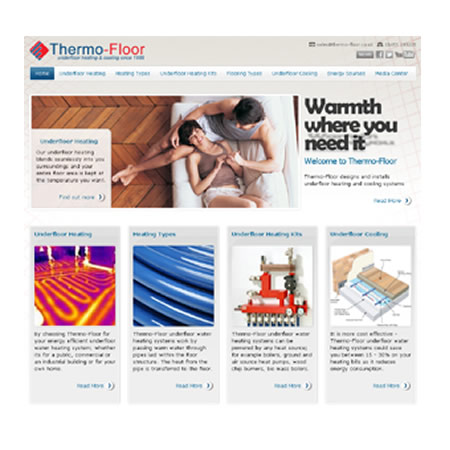 By choosing Thermo-Floor for your energy efficient underfloor heating system, whether it is for a public, commercial or an industrial building or for your own home, you can be confident with strong guarantees on our pipe, system, manifolds, fittings and calculations and design.
Wet underfloor heating for domestic installations and water underfloor heating for commercial installations, we have over 30 years experience in both. Recent projects have seen our systems install across the UK on small and large sized projects.
The finish of your installation is just as important as the technology underneath. Underfloor heating screeding, underfloor heating concrete, underfloor heating wooden batten or underfloor heating suspended floor options are covered in a new flooring types section.
Thermo-Floor underfloor heating systems provide cost effective and energy efficient heating during the winter months but they can also be used to provide underfloor cooling in the summer months. We can also provide simultaneous underfloor heating and cooling so one room heating and another room cooling at the same time from the same manifold.
Underfloor heating can be installed with an air source heat pump or ground source heat pump system, biomass boiler system, wood burner or traditional gas boiler system. We offer information on each system all are suitable for underfloor heating.